2022
Ellen Avitts – Associate Professor of Art History – Ellensburg, Washington, USA
William Greer – Writer – USA
Pedro Gunnlaugur Garcia – Writer – Reykjavík, Ísland
María Elísabet Bragadóttir – Writer – Reykjavík, Ísland
Marcia DeSanctis – Writer – Bethlehem, Connecticut USA – www.marciadesanctis.com
Sandra Setzkorn  – Artist  – Berlin, Germany – www.sandrasetzkorn.de
Caroljean Gavin – Writer – NC, US – https://caroljeangavin.com
Ksenia Kvitko – Photographer – Tartu Estonia – https://www.behance.net/kvita
Ruth Moppel – Textile designer – Tartu, Estonia – https://ruth7869.wixsite.com/portfolio
Amy Friedman – Writer – Los Angeles, USA – http://www.amyfriedman.net
Michelle Spinei – Writer – Reykjavík, Iceland
Christina Sadovnikov – visual artist – Richmond, VA, USA – c-sadovnikov.com 
Gary DeMichele – Composer, film composer, musician – Chicago, USA –  www.garydemichele.net
Morgan Hickinbotham – Photographer & Music Composer – Berlin, Germany – www.laapprojects.com
Salli Kari – visual artist / scenographer – Helsinki, https://sallikari.wixsite.com/portfolio
Verena Romanens – Visual Artist – Zurich Switzerland – www.verenaromanens.ch
Juliette Walker – Visual artist, project manager – Madison, Wisconsin, USA –  www.juliettewalker.com

 – 

Crust Bucket Collective
Maryalice Carroll- Visual artist, project manager – Surf City, New Jersey, USA – www.maryalicecarroll.com – Crust Bucket Collective
Eveline Ypma – Musician/Composer – Amsterdam, Netherlands – evelineypma.nl/
Tiffany Sutton – Visual Artist, Film Photographer – St.Louis, USA – www.tiffjtiffsutton.com
Debora Alanna- VR artist, creator of virtual psychogeographies / poetics. Co-founder of Ora4art, with Bora Bodur, an international collaboration collective. Writer and visual artist, presently creating books of new mythic tales – Montreal, Canada – www.instagram.com/ora4art/
Tyr Jami – cellist, singer, producer, composer, visual artist – Montreal, Canada – www.syngja.ca
Catriona Beckett – Visual Artist – Glasgow, Scotland – catrionabeckett.cargo.site/
Rachel Dickinson – nonfiction prose, water colorist, photographer – NY, USA – racheldickinson.com
Clara Gallagher – filmmaker – Belgrade, Serbia – www.imdb.com/name/nm10512422/
Bora Bodur – Paphos/Cyprus Turkey – Audio Visual Artist, an abstract feeler. Linguist/Educational Engineer working as ELT and Teacher Mentor for the Ministry of Education – www.borabodur.com
Alexandre Guerra Corbillón – Writer – Spain
Heather V Cramond – writer – Chicago, Illinois; USA – https://hvcramond.com/
Ludmila Budanov – painter, writer – Limassol Cyprus – https://ludmila-budanov.com
David Varno – Writer – Hudson, NY USA – http://davidvarno.com
Ashley King – Photographer/Artist – Sydney, Australia – https://ashleynking.wixsite.com/paperbarktales – https://jaydonking.wixsite.com/mysite
Kimberly Harris – Phoenix, Arizona, USA – painter, printmaking, sculptor – studiokphx.com
Fritz Rumpf – photographer – Phoenix, Arizona, USA – jfritzimages.com
Salvatore Mauro – Visual artist – Siracusa, Italy – www.salvatoremauro.com

Alfa59 –  visual artist – Siracusa, Italy –

https://www.instagram.com/alfa59000/
Carolina Redondo Fernandes – Writer – Madrid, Spain
Jennifer Bartlett – Writer – Brooklyn, USA – https://brooklynpoets.org/poet/jennifer-bartlett/
Katre Kiidron – Graphic designer – Tartu, Estonia – https ://www.behance.net/kkiidron
Triin Jahu – Grafic Designer – Tartu, Estonia –
Christopher Attenborough – Visual Artist / Photographer – Baltimore, USA – Chrisattenborough.org
Karri McPherson – Visual Artist – Canberra – https://www.karrimcpherson.com
LD Green – writer, screenwriter, graphic novelist – Richmond – www.ldgreen.org
Milan Tarascas – Visual Artist  – UK – www.milantarascas.com
Alexander Sokol – Writer – Copenhagen, Denmark
Cynthia Arrieu – King, poet – USA – cynthiaarrieuking.blogspot.com

 2021
Elín Gunnlaugsdóttir – composer of modern music and poet – Selfoss, Iceland – https://soundcloud.com/elin-gunnlaugsdottir
Ásta Ólafsdóttir – visual artist – Reykjavík Iceland – https://astaolafsdottir.com
Pétur H. Ármannsson – Architect – Reykjavík Iceland
Kristel Maamägi – Visual artist, scenographer, illustrator, gardener – Tallinn, Estonia – kristelmaamagi.tumblr.com, https://www.instagram.com/maamagi_kristel – 3 months
Kara Knickerbocker – Poet, Essayist, Travel Writer – Erie, Pennsylvania – www.karaknickerbocker.com – 2.5 months
Liisa Nurme – Mixed media artist, photographer, writer  – Tallinn, Estonia – https://liisanurmeln.wixsite.com/portfolio – 2 months
Mette Mari Kaljas  – Graphic designer and illustrator – Tartu, Estonia  – https://www.behance.net/mettemarikaljas – 3 months
Paulina Belik – Artist, Graphic designer – Tartu, Estonia – https://www.instagram.com/kikiuza – 2 months
Kathrin Wohlgemuth – Writer/translator – Bremgarten, Switzerland – 3 months
Adam Dalva – Writer – New York, USA – adamdalva.com
Alana Salguero – Writer & Visual Artist – New York, USA – alanasalguero.com
Cheryl J. Fish – writer, scholar, professor, photographer – New York, USA – cheryljfish.com
Kelly Egan – Poet/writer – San Francisco, USA – kellyjeanegan.com
DeMisty D. Bellinger – Writer – Fitchburg, MA, USA – demistybellinger.com
Jessie Daniels – Writer / professor – NY, USA – jessiedaniels.net
Sara Dosa – Documentary filmmaker – Berkeley, California USA – signpostpictures.com
Paula Sciuk – Multidisciplinary artist – Grand Island, NY USA – paulasciuk.com
Julia Brennan – Writer – Albuquerque, New Mexico, United States – julianellbrennan.com
Tonissa Saul – Writer/photographer – Phoenix, Arizona United States – behance.net/TonissaSaul
Patricia Widener – Sociologist (environmental & visual sociology) – Lauderdale by the Sea, Florida, USA –  fau.edu/artsandletters/sociology/faculty/widener/
Zdenka Brungot Svíteková – movement and dance artstist – Slovakia – zdenkabrungotsvitekova.wordpress.com
Cristina Sánchez-Andrade – Writer – Spain
Remy Pincumbe – Fiction Writer – USA – 3 months
Treena Thibodeau – Writer – New York, USA
Liza St. James – Writer – Brooklyn, USA – lizastjames.com
Libby Heily – Writer/Playwright – New York, USA- libbyheily.com
Robert Fanning – Poet – MI., U.S.A. robertfanning.wordpress.com
Jennifer Bartlett – Writer – Brooklyn, USA – brooklynpoets.org/poet/jennifer-bartlett/ 2 months
Adrienne Callander – Visual Artist / Writer – AR, USA – adriennecallander.com
Päivi Vaarula – Visual artist, textiles – Finland instagram.com/paivivaarula/
Kathrin Wohlgemuth – writer/translator – Bremgarten, Switzerland
Lori Kozlowski – Writer – CA, USA – lorikozlowski.com
Katharina Bitzker – medical doctor, psychotherapist, peace researcher, writer – Berlin/Germany
Felicia Sabartinelli – Nonfiction Writer, Poet, Actress – Delta, CO, USA – FeliciaSabartinelli.com
Jennifer Romolini – Writer – Los Angeles – jenniferromolini.com
Elizabeth Bourne – visual artist, writer, photographer – elizabethbourne.net
Kij Johnson – writer – Lawrence, Kansas, United States – kijjohnson.com
2020
Bradley Rappa – Filmmaker – Ithaca, NY, USA
Jenn Alandy Trahan – Writer – Redwood City, USA
Jeanette Powers – Poet – Belle, USA –  jeanettepowers.com
Alicia Rios Ivars – Food Artists – Madrid, Spain – alicia-rios.com and her blog
Juan Andrés Borgognoni Peri – Visual Artist – Madrid, Spain – juanborgognoni.com
Guðrún Eva Mínervudóttir – Writer – Iceland
Álvaro Gómez Pidal – Photographer, Filmmaker, Cinematographer,  Madrid, Spain – www.agomezpidalphoto.com
Fatima Susanna Dominguez Ortiz – Illustrator, tattoo artist – Estonia – http://www.instagram.com/fatimasusanna
Kaisa Benga – Graphic designer – Estonia – https://kaisabenga.wixsite.com/drawingshyportfolio/sketchbook
Rachel Dickinson – nonfiction prose, water colorist, photographer – NY, USA – racheldickinson.com
Lu Chekowsky – Writer – NY, USA – https://luchekowsky.myportfolio.com/
CLARA-Center for Rural Future – Portugal – representative visit for developing future cooperation – http://www.claralab.org
Freyja Reynisdóttir – Visual artist – Iceland – freyjareynisdottir.com
Snorri Eldjárn Snorrason – Illustrator – Iceland – snorrieldjarn.com
Alda Valentína Rós – Photographer, filmmaker – Iceland – aldavalentina.com
HERA – Singer songwriter – Iceland – http://www.herasings.com/
Kristín Reynisdóttir – Visual artist – Iceland –
Eyrún Ingadóttir – Historian and writer – Iceland – about her
Sigríður Gísladóttir – Visual artist – Iceland
Nicole A Yurcaba – Professor/Poet and Essayist/Editor – Baker, WV, USA – https://wp.bridgewater.edu/bipf/
Stanley A Galloway – Professor/Poet, editor – Bridgewater, WV, USA – wp.bridgewater.edu/bipf
Jennifer Marquardt – Writer/Professor – USA- Lives in Wenzhou, China – http://www.wku.edu.cn/en/faculty/jennifer-marquardt
Jesús Gracia Alfonso from Zaragoza – Engineer/football coach – Spain – Lives in Wenzhou, China.
Matthew Puccini – Filmmaker – New York City, USA – http://www.matthewpuccini.com
Emily Ann Hoffman  – Animator, filmmaker, writer and visual artist – Brooklyn, NY, USA – www.ehoffmanportfolio.com
Marc Merrill – Writer/Filmmaker – Los Angeles, USA – www.marc-merrill.com
Pedro Gunnlaugur Garcia – Writer – Reykjavík, Ísland
Harpa Rún Kristjánsdóttir – Poet and farmer, Rangárvellir, Ísland
Jón Magnús Arnarsson – Slambassador, Reykjavík, Iceland
Alda Rose Cartwright – Artist –  www.aldarose.com
Myrra Rós Þrastardóttir – Artist –  www.fjadrafok.com
Gary DeMichele – Composer, film composer, musician – Bannockburn USA – www.garydemichele.net
Ólafur Sveinsson – Documenary flmmaker – Icelander living in Berlin – About Ólafur
Margrét H. Blöndal – Visual artist – Reykjavík Iceland – margrethblondal.net
Magnús Þór Jónsson  -Megas – Musician/writer – Reykjavík Iceland – About Megas
Jennifer Bartlett – Writer – Brooklyn, USA – About Jennifer
Ragnhildur Róbertsdóttir – Visual artist – Reykjavik, Iceland – http://www.raggaroberts.com
Kyo Kayamoto – illustrator – Tokyo, Japan – https://www.kyokayamoto.com
Cyrielle Tassin – Visual artist – France – cyrielletassin.fr
Gunnur Martinsdóttir Schlueter – Actress and director, film and theater – Reykjavík – vimeo.com/gunnurms
John G. H. Oakes – writer and former publisher – New York – https://john-oakes.com
2019
Albert Liao, Author & Cognitive Linguist, Portland, Oregon, USA, cognitivecollage.net
Lisanne Sartor, filmmaker/writer/director, Los Angeles, California, USA, lisannesartor.com
John Pipkin, fiction writer/novelist, Austin, Texas, USA, johnpipkin.com
Sylvia Donis, visual artist, photographer, video, Marseilles, France, sylviadonis.com
Paula Pakk, visual artist, Estonia, paulapakk.wixsite.com/portfolio
Yara Zein, visual artist, Painter, Lebanon.
Jerry Monteith, sculptor, IL, USA, jerrymonteith.com
Daniel Cassidy, visual artist, photographer, USA – https://dancassidyimages.format.com/
Jenny Grosvenor, writer, college educator, VT, USA, https://www.uvm.edu/cas/english/profiles/jenny_grosvenor
Christina Davis, poet, MA, USA
Matt Witten, writer, USA
Joel Martin, fiction writer, Australia – www.thepenofjoel.com
D.A. Navoti, writer, USA – www.navotiprose.com
Diane Nunberg, mindfulness meditation practitioner, USA
Emilia Phillips Greensboro, poet, USA – www.emiliaphillips.com
Alyssa Harms-Wiebe, writer, Canada – https://www.alyssahw.com
Soh-yon Park, film photographer, Canada -.www.sohyonpark.com
Elisabeth Scott, visual artist/teacher, Australia.
Miguel Guerrero Becerra, writer, Mexico.
Sigríður Gísladóttir, artist, Iceland.
Elísabet Jökulsdóttir, poet, writer, performer, Iceland – http://elisabetjokulsdottir.is/
Zachary Perez, screenwriter, Melbourne, Australia
Bregje Bleeker, writer, Netherlands – http://www.bregje.nl
Jane Austin, visual artist, Canada – http://www.janeaustinartist.ca
Victoria Viennet, photographer, France –  http://victoriaviennet.com
Marina Oroza, poet & fiction, performing artist, Spain – http://www.marinaoroza.com
Louise Akers, poet, USA
Marshall Woodward – Poet – Brooklyn, USA
Sarah Roberts – Visual Artist – Chicago, USA
Hanyong Jeong – Poet, Critic, Painter, and publisher – Yongin-si, South Korea
Jenifer Sarver – Ballet Director/Academic/University Lecturer – La Grange, GA, USA
Nara Walker – Visual artist. Painter, performance art, writing and drawing – Australia – 1990 – www.naraisart.com
Michael G. Smith – Poet – New Mexico, USA – https://www.facebook.com/michaelgsmithpoetry
Kimberly Ritchie – Visual Artist – NH, USA –  http://kimberlyandersonritchie.com
Pam Anneser – Graphic Designer, Artist, Professor – NH, USA – http://nokodesignsolutions.com
 Brian T. May – Screenwriter – Los Angeles, USA
Baniprosonno, artist, Himachal Predesh, India
Bradley Rappa – Filmmaker – Ithaca, NY, USA
Jenn Alandy Trahan – Writer – Redwood City, USA
Jeanette Powers – Poet – Belle, USA –  jeanettepowers.com
 2018
Kertu Jaik, graphic designer, Tartu, Estonia (Erasmus+)
Virgylia Soosaar, illustrator, Tartu, Estonia – www.vikipesa.ee (Erasmus+)
Erin Segal, filmmaker, LA, California, USA
Jen Schiller, writer, Baltimore, MD, USA
Anke Ricklefs, writer, Cologne, Germany
Raisa Tolchinsky, poet , New York, USA
Neil Ó Loclainn, music / composer, Clare, Irland – www.neiloloclainnmusic.com
Rachel Dickinson, nonfiction prose, water colorist, photographer, NY, USA – racheldickinson.com
Joëlle Hoogendoorn, painter, Rotterdam, The Netherlands – www.joellehoogendoorn.com
Cynthia Arrieu-King, poet, USA  – cynthiaarrieuking.blogspot.com
Holly Knox Rhame, visual artist, Bridgeport, USA – www.hollyknoxrhame.com
Sven Vinge, writer, Denmark – www.svenvinge.dk
James Hoch, poet, New York, USA
Kristina Marie Darling, editor and poet, St.Louis, MO, USA
Linda Michel-Cassidy, writer, CA, USA – www.lmichelcassidy.com
Rachel Haley Himmelheber, fiction writer, Asheville, NC, USA
Jacques Desruisseaux, visual artist, Quebec, Canada
Paul Brooke, poet and photographer, Iowa, USA – http://pbrooke2.wixsite.com/mysite
Matthew Gellman, poet, New York, USA
Alma Katsu, writer (fiction) Maryland, USA – www.almakatsubooks.co 
Tosca Teran, visual/audio artist, Toronto, Canada – www.toscateran.com
Gershom Spruijt, painter, CA, USA – gershom-art.com
Donna Spruijt-Metz, poet, scientist,CA, USA
Brandy Green, ceramic artist, SC, USA
Kathryn Savage, writer,Minnesota,USA – www.kathrynsavage.com
Victoria Hannan, writer, Australia – victoriahannan.com
Katrina Woznicki, writer, New Jersey, USA – katrinawoznicki.contently.com
Sheila Grace Stuewe, writer, Texas, USA – www.artistcommunities.org/residencies/gullkistan
Alissa Hattman, writer and educator, Oregon, USA – alissahattman.com
Anna Vihra, visual artist, photography student, Espoo, Finland
Sae A Lee, painter, NY, USA – saealee.com 
Sylvie Donaire, visual artist, painter, paper engineer, engraver, France – http://cargocollective.com/sylviedonaire; http://www.sylviedonaire.net
Sarah Sheppard, writer, Detroit, MI, USA
Gudrun Brückel, visual artist, Dresden, Germany – www.gudrunbrueckel.de
Simona Carini, poet, nonfiction writer, USA – www.simonacarini.com
Amanda Whiting Deger Sen, writer, USA  – www.amanda-whiting.com
Sophie Gabrielle, photographer, Australia – www.sophiegabriellephoto.com
Baniprosonno, artist, Himachal Predesh, India
Elizabeth Bourne, visual artist, writer, photographer, Seattle, WA, USA – www.elizabethbourne.net
Albert Liau, author and cognitive linguist, Portland (Oregon), USA – cognitivecollage.net
Ásrún Kristjánsdóttir, artist, Iceland, http://www.asrun.art
Diane Vadino, novelist, France
Sigríður Gísladóttir, artist, Iceland – https://www.facebook.com/sigridurgisla
Group : Shenandoah University, Virginia
USA Book Art Iceland, book art workshop from 19th of June until 28th of June 2018,  with Brooke Holve artist –www.brookeholve.com
2017
Camilla Quinn, visual artist, Nevada, USA – camillaquinn.com
Manuel Gancedo, curator, Puerto Rico
Melissa Dole, sculptor, USA – www.melissamdole.com
Niko Villani,  visual artist, USA – nikovillani.info
Shelby Seu, visual artist, U.K. – www.shelbyseu.com
Anna Blundy, author, USA – annablundy.com
Christina Chowaniec, writer, Vancouver, Canada
Hannah Sanders, illustrator, painter, human researcher, USA  – bigbeautifulthing.co/, hannahloulou.com/
Sevda Khatamian, writer, photographer, filmmaker, Turkey
Tamara Drazic, fiction writer, Australia – thedrazicdiaries.com
Sarah Rose Etter, writer, USA – www.sarahroseetter.com
Liza Ambrossio, photographer, México –  www.lizaambrossio.com
Agnes Marton, poet, Luxembourg
Catherine Richardson, visual artist, USA –  catherineRichardsonArt.com
Anna Ralls, writer/poet, USA
Simona Carini, poet, nonfiction writer, USA – www.simonacarini.com
Joan Perlman, visual artist, USA – www.joanperlman.com
Phyllis Odessey, photographer/visual artist, USA – www.phyllisodessey.com
Peter Mauss, photographers/visual artist, USA
Victoria Arriola, visual artist, USA – varriola.com
Coco Spencer, mixed-media artist,ceramicist,USA – cococolalala.tumblr.com
George Spica, sculptor/video, artist, student, London, UK – http://georgespica.com
Yasmin Zaher, writer/film producer, Jerusalem, Israel/Palestine
Nathaniel Popkin, writer, USA – www.nathanielpopkin.net
John Oles, ceramist/professor, USA – www.jolesart.com
Darren Sears, visual artist and landscape architect, USA – www.darrensears.com
Cynthia Arrieu-King, poet, USA  – cynthiaarrieuking.blogspot.com
Susan Kessler, photographer, USA – www.susankesslerphotography.com
Joanna Rafael Goldberg, writer, New York, USA
Hannah Pass, writer, Portland, Oregon, USA – www.hannahpass.com
Elizabeth Rose Murray, writer, Schull, Republic of Ireland – www.ermurray.com
Virginia Konchan, poet, Hyde Park, New York, USA – www.virginiakonchan.com
Tory Bilski, writer, New Haven, Connecticut, USA – www.icelandica.net
Tove Sundt-Hansen, visual artist, Norway – sundthansen.no
Dr. Ginna L. Wilkerson,  writer, USA –  ginnawilkerson.weebly.com
Alexina LePage , visual artist, Canada
Tamara Whyte,  filmaker, artist,  Australia – Butcherspaperworkshop.com
Alison Kruse, visual Artist ,Canada – www.alisonskruse.com
Rachel English Walter, painter, Austin, Texas, USA, Female 1992, www.rachelwalter.com
Ann-Christin Hellberg-Sågfors, Cultural Manager, writer, Finland – https://www.linkedin.com/in/anki-hellberg
Laura Kaye, writer, London UK – www.laura-f-c-kaye.com
Kirsty Bell, Academic (French literature), Canada
2016
Anwen Keeling, painter, Sydney, Australia – www.anwenkeeling.com
Samuel Lieblich, psychiatrist, neuroscientist, Melbourne, Australia
Marietta Patricia Leis, painter, USA – www.aariettaLeis.com
David E. Vogel, photographer, USA – www.facebook.com/david.e.vogel.3
Alexander Sigman, multimedia and music, Japan – www.lxsigman.com
Patsy Mc Arthur, visual artist,London, UK  – www.patsymcarthur.com
Charlotte Simpson, writer, New York, USA
Sophie Mollart, Writer, Brooklyn,USA, – www.sophiemollart.com
Amanda Feery, composer,  New York, USA – www.amandafeery.com
An Sokolovska, social scientist, Cambridge MA, USA
Mary Frances Coady, fiction writer, Toronto, Canada – www.maryfrancescoady.com
Joni Wallace, writer,USA, www.fourwaybooks.com/site/joni-wallace/
Estefania Santiago, visual communicator and filmmaker, Argentina – www.estefaniasantiago.com.ar
Susan Singer, visual artist and author, Richmond, USA, –  www.susansinger.com
Michael Seebold, playwrighter, NC, USA
Danielle Sepulveres, writer, NJ, USA – daniellesepulveres.com
Julie Pamkowski, visual artist, USA
Bradley Phillips, visual artist/professor, USA – www.bradley-phillips.com
Geraldine Kiefer, visual artist and art historian, USA – www.su.edu/faculty-staff/faculty/geraldine-kiefer/
Titania Veda, journalist, writer, poet, Indonesia, titaniaveda.wordpress.com
Amy Bess Cook,  writer Sonoma, USA –  cavaliercareer.com
Wibeke Bruland, writer, Norway – wibekebruland.wordpress.com
Rachel Jamison, websiter, writer, USA – www.racheljamisonwebster.com
John McCarthy, writer, USA – johnmccarthylit.wordpress.com
Kristen Ringman writer, USA – www.kristenringman.com
Kimberly King, writer, NY, USA
Nicole Treska, writer, NY, USA
Ann Kenny, writer/illustrator, Ireland
Madeline Young, writer, Australia – madelineyoungwrites.wordpress.com
Adrienne Callender, textile art, USA – adriennecallander.com
Melanie O'Brian, curator and art director, Canada
Kelsie Ward, Sculptor,  USA – www.kelsieward.com
Aimee Jette, painter,USA – www.aimeejette.com
Sarita Sarvate, writer, journalist, Albany, California, USA – new.saritasarvate.com
Saskia van Dijk, visual artist, Netherlands – www.saskiavandijk.com
Rebecca Dvorin Strong, visual artist,USA  – www.rebeccadstrong.com
Vanessa Gennarelli, poet, USA – mozzadrella.me
Piotr Jastak, painter, drawer, computer scientist, philosopher, Poland – imaginauticon.com
Brooke Holve, visual artist, CA, USA – www.brookeholve.com
Elizabeth Sher, artist and filmmaker, CA, USA – www.ivstudios.com
Anna Lawrence, visual artist, New York, USA – www.annaruthlawrence.com
Sara Sutter, writer, Portland, USA
Nancy Libson, photographer, Washington, DC, USA – www.nancylibson.com
Alison Leedy, musician/ writer/ professor, Denver, USA – www.follyfields.com
Véronique Brindeau, writer and a scholar, París, France – www.editions-picquier.fr
Gabrielle Paananen, puppetry artist, Sydney, Australia
Lucie Grégoire, dancer/choreographer, Montreal, Canada – luciegregoiredanse.ca
Kirsty Logan, writer Glasgow, Scotland – www.kirstylogan.com
John R.G. Roth, professor (sculpture) Norfolk, Virginia, USA – johnrgroth.com
Aoi Suwa, painter & designer, Tokyo, Japan
Victoria Veedell, visual artist, USA – veedell.com
Dennis Tae Wook Kim, painter, South Korea – dkim740.wix.com/dtwk
Molly Burt Westvig, painter, USA – mollyburtwestvig.com
Stacy Lynn Gould, producer/playwright-er/actor/director, USA – www.msstacylynn.weebly.com
Marika Olsen, writer, media specialist, USA
Josephine Turalba, artist, Philippines – www.josephineturalba.net
Merle Palk, 3d designer, Tartu, Estonia
Rebekah Harrison, writer/theater maker,UK
Jole Bortoli, visual artist, Dublin, Ireland – www.arttoheart.ie
Barbara O'Meara, visual artist – on Facebook Barbara O Meara Artist
Manuel Gancedo, curator, Puerto Rico
Justin Taylor, writer, Brooklyn, USA, – www.justindtaylor.net
Camilla Quinn, visual artist, Nevada, USA – camillaquinn.com
2015
Ann Synesthesia Koi, fine artist/writer, Olympia, USA – www.moritorium.com/koi/
Jennifer Pui Sze Choy, China / UK – www.choypuisze.com
Erica Kremenak, California, USA – ekremenak.com
Jamie Russom, Visual artist, Glasgow, UK –  www.jamierussom.com
Maria Neal, photographic student, Helsinki, Finland
Stephanie Clark, painter, USA
Laura Jean Campbell, visual artis, Oro Medonte, Canada
Isha Hening, motion graphics artist, Jakarta, Indonesia – www.ishahening.com
Lucia Dillman, visual artist, San Francisco, USA
Khara Deurhof, photographer, Mackay, Australia – www.houseoflucie.com
Emily Gregory, playwright, Oregon, USA – emilymikagregory.wix.com/emilygregory
Jarryd Luke, writer, Townsville, Australia – www.twpc.org
Jaya Padmanabhan, writer/editor, California, USA – jayapadmanabhan.com
Beth Legg, applied artist/jewellery maker, Scotland, UK – www.bethlegg.com
Susan Williams Arbs, visual art, UK – www.susanwilliams-art.info
Judith Nicholson, artist, Scotland – judithnicholson.co.uk
Tosca Teran, visual/audio artist, Toronto, Canada – www.toscateran.com
Dinesh Patel, author & poet, Goa, India
Dawna Rose, visual artist, Saskatoon, Canada
Ian Dowle,  painter, Saskatoon, Canada
Sara Wuillermin, writer, USA
Yeo Wei Wei, writer, Singapore
Chelsea Baranski, MFA student – visual artist, Texas, USA – chelseabaranski.com
Sarita Zaleha, visual artist,  MN USA – www.saritazaleha.com
Mary Elizabeth Vance, Visual Artist and Writer,  Tennessee, USA – maryelizabethvance.com
Sandra Rigby, artist and print maker, Australia
Sydney Steen, visual artist, Chapel Hill, USA- sydneysteen.com
Emma Fineman, painter, Piedmont, USA –  www.emmafineman.com
Carrie Firman, visual artist/professor, Fitchburg, WI, USA – carriecfirman.com
Nancy Libson, photographer, Washington, DC, USA – www.nancylibson.com
Gina Cunningham, visual artist & filmmaker, USA – ginacunningham.wordpress.com
Candice Wuehle, poet, Lawrence, Kansas, USA
Anna Prushinskaya, writer, Ann Arbor, MI, USA – annavpru.tumblr.com
Julia Bonk, writer and political philosopher, Berlin, Germany –  www.neustadtpoetrywalk.de
John Patrick Flood, photographer, NY, USA / Sohar, Oman – www.RadiantPlanetPhotography.com
Sarah May, artist, photographer, art instructor, Utah, USA –  www.sarahmayartandphotography.com
Lezli Rubin-Kunda, visual artist- multidisciplinary, Tel Aviv, Israel – www.lezlirubinkunda.com
Freya Esders, filmmaker, photographer, Melbourne, Australia
Heather Mc Naugher, book editor, short story writer, poet, Pittsburgh,  USA –  www.heathermcnaugher.com
Christiane Bergelt, painter, Chorin, Germany – www.christianebergelt.com
Elizabeth Kirschner, writer, Maine, USA – www.elizabethkirschner.com
Shelley MacDonald, jewellery designer,Whitehorse, Canada
Eric Griffon Du Bellay, filmmaker, Paris, France – www.ericgdubellay.com
Hannah Kimani-Blanco, artist, London, UK
Margrét Ann Thors, writer, NY, USA – margretannthors
Tove Sundt-Hansen, visual artist, Norway – sundthansen.no
Samantha J Heriz, conceptual artist,  UK / Australia –  www.samanthajheriz.com
Philippa Thomas, visual artist, UK – cargocollective.com/philippathomasdesign
Noortje Zijlstra, artist, Den Haag, Netherlands – www.noortjezijlstra.com
Mariette Patricia Leis, visual art, composer, Albuqerque, USA – www.mariettaleis.com
2014
Joe Decker,nature photographer, author and educator, CA, USA – www.joedecker.net
Mary Rasmussen, artist, CA, USA – www.faintinbetween.com
Erin Canady, artist,  Asheville, USA –
Maya Alberta Horton, Painter and Textile Designer, Newcastle upon Tyne, UK- Facebook
Anne Carli, cinema and photography, Atlanta, GA, USA
Anika Steppe, cinema and photography, Ithaca, NY, USA – anikasteppe.com
Laurita Siles Ceballos, artist, Andalusia, Spain –www.folklorenomada.com
Emma Mc Evoy , Fine art photographer, Australia – emmamcevoy.com
Kelley Schei, artist, Denver, CO, USA – www.kelleyschei.tumblr.com
Natasha Day, painter, UK –  www.camopenstudios.co.uk
Aline Keller, visual artist, Amsterdam, Netherlands – www.alinekeller.com/en/
Deborah Catton, artist, Canada – deborahcatton.com
Griffin Pines, visual art, Columbus, Ohio, USA – griffinpines.wordpress.com
Ian van Coller, photographer,  USA – www.ianvancoller.com
Virginia Griswold, artist – Tennessee, USA – virginiagriswold.com
Morgan Higby-Flowers, 

New Media artist, Tennessee, USA –

Morganhigbyflowers.com
Ginny Krueger, painter and sculptor, Grays lake. Illinois USA – ginnykrueger.com
Shelby Prindaville, artist, Leavenworth, USA – shelbyprindaville.com
Sophie Salleron, artist, Oléron, Charterer-maritime, France
Ellis Mhairi Cameron, Designer Jeweler Maker, Scotland – www.ellismhairicameron.com
Geetanjali Shree, writer, New Deli, India – en.wikipedia.org/wiki/Geetanjali_Shree
Sudhir Chandra, historian, New Deli, India – rfiea.fr/fellows/sudhir-chandra
Lauren Baines, choreographer, performance artist, San Jose, C:A, USA – www.laurenbaines.com
Andrea DeJong – visual art, Iowa City, USA – www.andreadejong.com 
Alexander Sigman, multimedia and music, South- Korea – www.lxsigman.com
Kelvin Mason, artist, Chicago, USA – www.subtopiastudios.com
Ruitong Zhao, new media, DC, USA
Karl Grohmann, composer, USA – www.karlgrohmann.com
Amie Adelman, Fiber artist, Texas, USA  – www.amieadelman.com
Maja Ingerslev, artist, Denmark – www.majaingerslev.com
Lauren Coulson, painter, Boston, USA – www.laurencoulson.com
Gerd Endestad, visual artist,  Norway – www.gerdendestad.com
Golda King, painter, Cebu, Philippines –www.goldaking.com
Dr. Linda Buckley, composer, Dublin, Ireland – www.lindabuckley.org
Jasna Bogdanovska, Assistant Professor of Photography, Rochester, New York, USA – www.jasnabogdanovska.com
Lilian Day Suber Thorpe, photographer, Brooklyn, USA – www.lilianday.com
Louise Martin, textile artist, Scotland – www.louisemartintapestry.com
Anna Orbovich, printmaking and book arts, Minnesota, USA – www.annaeorbovich.com
Laura Marconi, artist, Italy/USA – marconilaura.com 
Katherine Mayfield, fiction writer and illustrator, Virginia, USA – www.katherine-mayfield.com
Hannah Perrine Mode, artist and designer, NY, USA –  www.hannahpmode.com
Emily Eddy, video artist, Chicago, USA – emily-eddy.com
Karina Guevin, glass-artist, Montreal, Canada – www.karinaguevin.com
Cédric Ginart, glass-artist, Montreal, Canada  – www.cedricginart.com
Lei Han, new media artist, USA – nm.unca.edu/~lhan/mysite/
Daniel Low, photographer, USA – starmountainmedia.com
dr. Enrique del Acebo Ibánez, writer and painter, Bueno Aires, Argentina
Rachael Siminovitch, visual artist, Dawson City, Canada – rachaelsiminovitch.com
Interns: Daníel Perez Eðvarðsson, fine art student at the Icelandic Academy of Arts, Iceland Mina Tomic, fine art student at the Icelandic Academy of Arts, Serbía
Curator for Gullkistan 20 year anniversary exhibition at the Art Museum of Árnessýsla. Ben Valentine, artist, NY, USA – benjaminvalentine.com
2013
Kenn Bass, video/ installations, Brooklyn, USA – kennbass.com
Lissa Holloway-Attaway, artist,  Canada/ Sweden – momoby.wordpress.com
Jieum Kim, artist, South Korea / London –www.jieunkim.net/index.php
Suwon Lee, photographer, South Korea / Venezuela – www.suwonlee.com
Luis Romero, artist, Venezuela
Emerson Schreiner, painter, USA – www.emersonschreiner.com
Nick Pedersen, visual art, Salt Lake City, USA, www.nick-pedersen.com
Amy Macintyre, writer, New Jersey, USA
Katariina Vuorinen, poet, Jyväskylä, Finland – www.savukeidas.com/katariinavuorinen
Sade Kahra, photography artist, Turku, Finland – www.kahra.fi
Sonia Ali, artist, Excess, UK – www.stormsinateacup.blogspot.com
Caroline Jean, painter, Canada – carolinejean.wordpress.com
Noelle Sharp, visual art, sculpture, textiles , Chicago, USA – www.noellesharponline.com
Rosalind Breen, artist, Toronto, Canada – rosalindbreen.com
Ken Steen, composer, sound and media artist, Connecticut, USA – www.kensteen.com
Jenny Forster, artist, Germany – www.jenny-forster.de
Dewane Hughes, sculpture , USA – www.dewanehughesart.com
Alexis Serio Hughes, painter, USA – www.alexisserioart.com
John Steck Jr., photographer, book art, USA – www.johnsteckjr.com
Catherine Ludwig, visual artist, Austria – www.nocti-luca.com
Amelia Beamer, writer, England / USA – www.ameliabeamer.com
Adrienne Callender, textile art,  MS, USA – adriennecallander.com
Neil Callander, artist,  MS, USA – neilcallander.com
Rachel Simmons, artist,  FL, USA – www.rachelsimmons.net
Jason Christopher Boyette, filmmaker, FL, USA
Cory Metcalf, Music & Installations, USA –  www.noisefold.com
Silvia Buol, artist and dancer, Switzerland – www.silvia-buol.ch
Loris Quantock, artist, Australia – www.lorisquantock.com
Margery Amdur, artist, Pittsburgh, USA – www.margeryamdur.net
Adrian McGruther, Composer / Sound Designer, Sidney, Australia
Jeanne Borensztajn, student in fine art in Paris, France
Juliette Marie, student in fine art in Lorient (Bretagne), Paris, France
Andrea Krupp, painter, Philadelphia, USA – www.andreakrupp.com
Laura Marconi, painter, Philadelphia, USA
Noémie Letu, photographer, Montreal, Canada – www.noemieletu.com
Yasser Fadili, video – graph er, Montreal, Canada – www.okamika.com
Martin Sercombe, artists' films, animations, documentaries, photographer and director of Media Projects East –
Britta Pollmuller, artist and teacher and is currently working on her PHD entitled 'Animation and Creativity in Education
Hallur Karl Hinriksson, painter, Selfoss, Iceland – www.hallurkarl.is
Jennifer Globush, artist, Ontario, Canada
Liisa Hilasvuori, installation art, Helsinki, Finland – www.liisahilasvuori.com
Baniprosonno, artist, Himachal Predesh, India – baniprosonno.com/playnet.html
Art Loop Project – www.artloop-project.com
Media Projects East – www.mediaprojectseast.co.uk
2012
Kat Kohl, artist, NY, USA – www.katkohl.com
Marjolijn Hof, writer, Holland – www.marjolijnhof.nl/EN
Hlín Agnarssóttir, writer, Reykjavík,  Iceland
Janine Gerber, artist, Switzerland – www.janinegerber.ch
Keiko Kurita, artist, Japan – swimciel.net
Kerstin Jakobsson, artist, Sweden – www.kerstin-jakobsson.com
Jill Bennett, writer and curator,  Australia – www.niea.unsw.edu.au
Matthew Alexander Saxon, musician, UK
Jón Tryggvi, musician, Iceland
Unnur Arndísardóttir, musician, Iceland
Emanuela Marenz, photographer, UK – www.emanuelamarenz.com
Else Ploug Isaksen, artist, Denmark – www.elseplougisaksen.dk
Auke de Vries, animation artist, Breda, Netherland- www.grabbelfant.nl/thesuperropesolution
Yuh-Shioh, artist, Taiwan/USA,   www.yuhshioh.com
Christine Olson, artist, USA
Brooke Holve, visual artist, CA, USA – www.brookeholve.com
Elizabeth Sher, artist and filmmaker, CA, USA – www.ivstudios.com
Loris Quantock, artist, Australia – www.lorisquantock.com
Amy Purcell, artist, USA – amypurcell.net 
Miriam Ward Johnson, artist , Australia
Joan Perlman, LA, USA – www.joanperlman.com
Du Yun, music-artist, USA – www.myspace.com/duyun
Gudrun von Maltzan, artist, France – www.gudrunvonmaltzan.com/fr/accueil
Aubrey Lande, artist, USA – www.conscioussensoryprocessing.org
Judy Natal, artist, Chicago, USA – www.judynatal.com
Victoria Arriola, artist, CA, USA –  varriola.com
Sophia Arriola, artist/photographer, CA, USA – sarriolagibson.tumblr.com/ arriolagibson.com
Ben Valentine, artist, NY, USA – benjaminvalentine.com
Amy Guion Clay, artist, Boulder, CO, USA    www.amyclay.com
Gabrielle Vitollo, painter, West Chester, PA, USA – gabriellevitollo.com
Alexandra Strada, photographer, NY, USA – www.alexandrastrada.com
Rebecca Rutstein, painter, Philadelphia, PA, USA – Birgette Mayer Gallery
Malev Toom, photographer, Estonia –
Kyle Williams, artist, CA, USA – www.williamkylewilliams.com
Anna Barlik, artist, Poland – www.annabarlik.com
Emily. H. Beyer, poet, Seattle, USA – www.beyergyre.com/ehbeyer/index.html
Annie Kwakkel, visual artist, Zwolle, Netherlands – www.anniekwakkel.nl
Lev Kalman, filmmaker, SF, USA – www.specialaffectsfilms.com
Whitney Horn, filmmaker, SF, USA – www.specialaffectsfilms.com
Baniprosonno, artist, Himachal Predesh, India – baniprosonno.com/playnet.html
Ilsu Hwang, artist, South Korea / London, UK – www.ilsuhwang.com
2011
Derek T. Staebell, singer/songwriter, New York, USA – www.vagabondrecords.net
Hlín Agnarssóttir, writer, Reykjavík,  Iceland
Guðrún Ragnarsdóttir, filmmaker, Reykjavík, Iceland
Elaine Pawlowicz, painter, Dallas, USA – www.faultywire.com
Angela Washko, artist, New York, USA – www.angelawashko.com
Magnea Ásmundsdóttir, artist, Reykjavík, Iceland – www.magnea.net
Harpa Björnsdóttir, artist and courator, Reykjavík, Iceland – klaki.blog.is/blog/klaki
Pétur H. Ármannsson, architect, Reykjavík, Iceland –www.glamakim.is/staff/petur-h-armansson.php
Ásta Ólafsdóttir, artist, Reykjavík, Iceland –www.ismennt.is/not/astol
Julie Ryder, textile designer, Canberra, Australia – www.craftact.org.au/portfolios/artist.php?id=310
Helena Wadsley, artist, Vancouver, Canada – www.helenawadsley.com
Emily Stoker, photographer and bookbinder, Dallas, USA – www.emilystoker.com
Julie Hsi Wen Fang, (born in Taiwan) artist, London, UK – www.julietfang.com
Anna Neizvestnova, artist, Moscow, Russia – picasaweb.google.com/neizvestnova
Antje Seemann, artist, Aachen, Germany – www.antjeseemann.de
Peeter Krosmann, artist, Tartu, Estonia – peeterkrosmann.eu
Gaëlle Pelachaud, artist, Paris, France – www.gaellepelachaud.fr
Joan Perlman, artist, Los Angeles, USA  – www.joanperlman.com
Thomas Kwak artist & designer, New York, USA – www.tommykwak.com
Joseph Sossi, artist, New York, USA – www.josephsossi.com
Vivian Byrd, artist, Washington, USA – www.vivianbyrd.webs.com
Alfredo De Stefano, Mexico – www.adestefano.com
Erica Kremenak, California, USA – ekremenak.com
Mia Makela, artist, Helsinki, Finland – www.miamakela.net
Rachel Rader, artist, Seattle, USA – www.rachelrader.com
Michelle Rak, artist, Seattle, USA – www.sewmiishka.etsy.com
Baniprosonno, artist, Himachal Predesh, India – baniprosonno.com/playnet.html
Kimberly Cook, spatial artist, California, USA – http://www.kimberlycookart.com
Hannah Kimani, artist, London, UK
2010
Robert Dunne, artist, UK – www.robdunne.com
Hlín Agnarsdóttir, writer, Iceland
Sharyn Finnegan, artist, N.Y., USA –  www.sharynfinnegan.com
Peter Byrne, artist, N.Y., USA – www.byrnestudio.net
Amy Adams, artist, N.Y.,  USA – www.amyadams.us
Kathleen Lee, artist, N.Y.,  USA
Miriam Sagan, artist, New Mexico, USA –  sfpoetry.org
Kendra Lynn Bulgrin, artist, Kansas,  USA –  www.kendrabulgrin.com
Jimmy Eddings, ceramicer, Kansas, USA – www.jimmyeddings.com
Rósa Helgadóttir, textile designer, Iceland – www.rosadesign.is
Annika Bergvik-Forsander, artist, Finland –  www.annikabf.com
Bo Forsander, filmmaker and photographer, Finland
Fie Tanderup, artist, Denmark –  www.artreview.com/profile/FieTanderup
Jens Kallenbach Thomsen, writer, Denmark
Heidi Naumanen, artist, Finland
Laura Ruotsalainen, artist, Finland
Sigrún Jónsdóttir, photographer, Iceland
Bodil Steinsund, artist, Norway
Rita Lisbeth Johansen, artist, Norway
Joan Perlman, artist, L.A. / USA –  www.joanperlman.com
Veronique María, artist, UK –  www.veroniquemaria.co.uk
Raom, artist, Argentina – www.raometloba.com
Loba, artist, France –  www.raometloba.com
Krístín Garðarsdóttir, keramiker, Iceland – www.kirs.is
Annie Abdalla, artist, Canada – www.annieabdalla.com
Andreas Kaiser, artist, Germany –  www.kaiserkunst.de
David Snoo Wilson, artist, UK – www.davidsnoowilson.com
2009
Elizabeth Hodson, artist, UK
Barbara Milne, artist, Canada
Barbara Ballachey, artist, Canada
Rósa Helgadóttir, designer, Iceland –  www.rosadesign.is
Carla Cisno, sound artist, Italy
Joan Perlman, artist , L.A., USA  – www.joanperlman.com
Daniele Frongia, IT-expert/statistian, Italy
John Krogh, artist, Denmark
Ósk Eiríksdóttir, photographer, Iceland – www.flickr.com/photos/oeiriksdottir/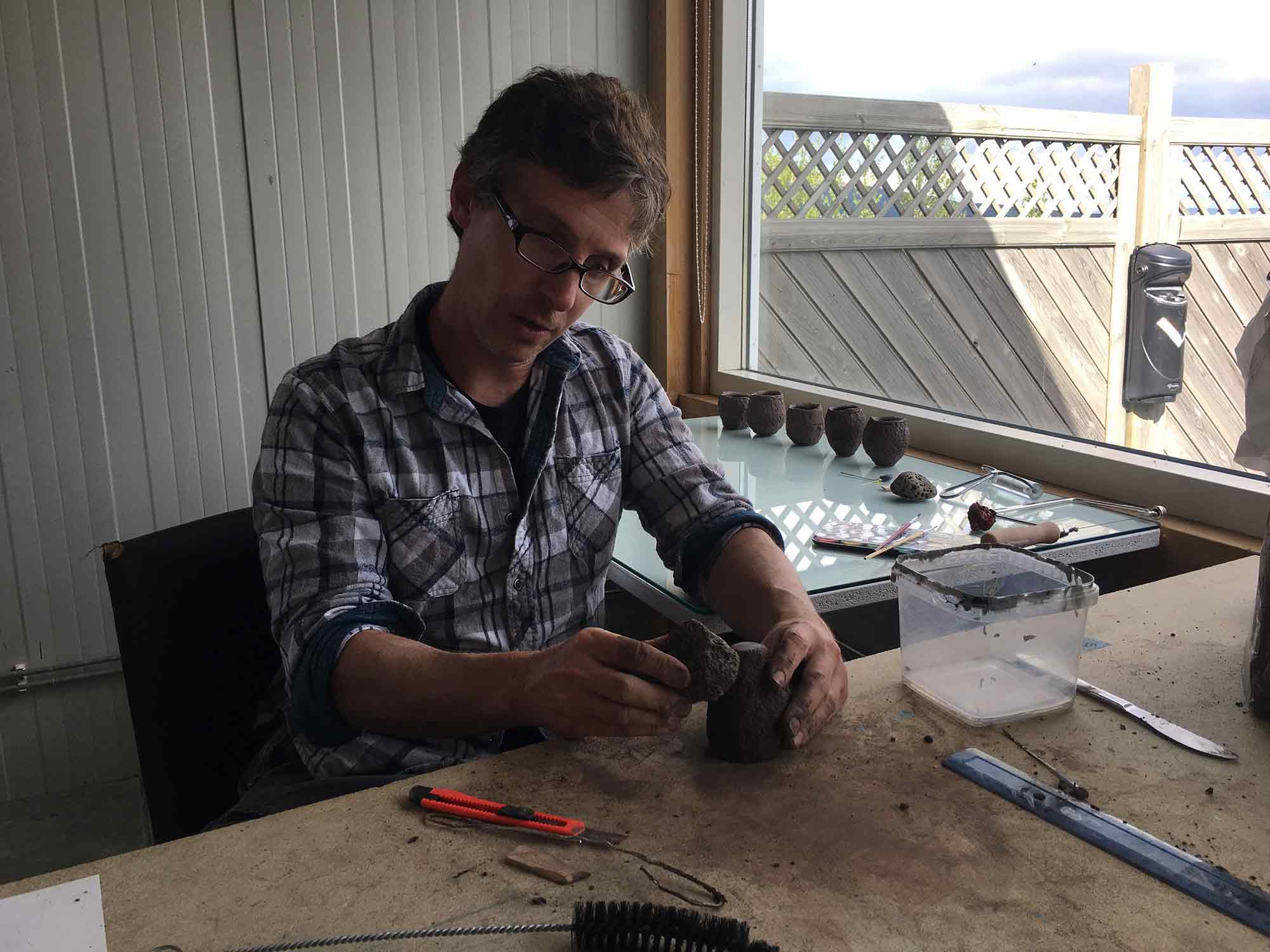 Since 2009
The Gullkistan residency was founded in spring 2009 and is now run all year round. More than than 500 people from all over the world have worked on their creative projects at Gullkistan.
The residents are mostly visual artists as well as writers, musicians, designers, photographers, filmmakers and scientists.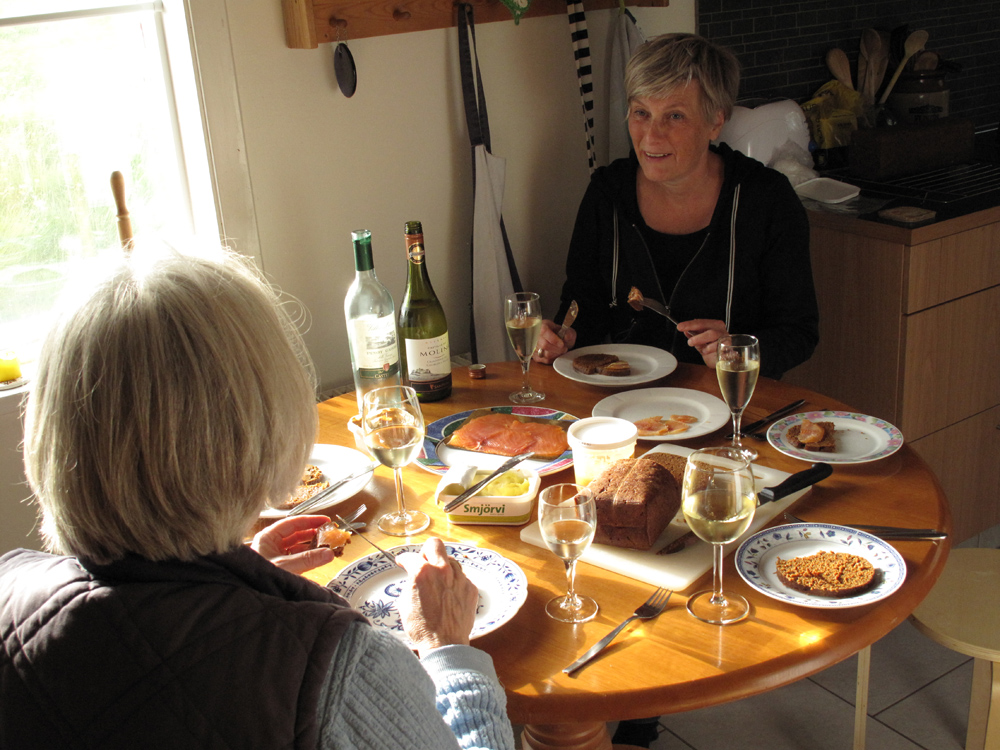 Residents are encouraged to participate in mutual activities.