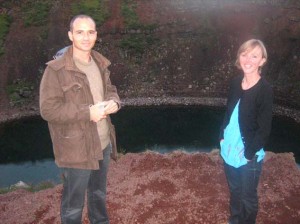 Daniele Frongia from Rome, Italy at Kerið with Alda Sigurðardóttir, on the way to Gullkistan, Laugarvatn.
Daniele  is an IT expert and a statistician. He is at present working on two books: the first on "secret codes for children", the second on "Innovative and creative way to represent statistical data online"
He will be meeting people at StatIce (Hagstofa Íslands) to share his ideas and also to learn about their work.