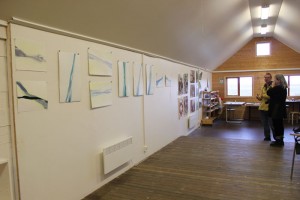 In september Gullkistan had the following guests:
Alfredo De Stefano, photographer from Mexico.
Peeter Krosmann, artist from Estonia.
Mia Makela, artist from Finland.
Erica Kremenak, artist from California, USA.
Alfredo travelled and photographed and we will see his works later. Mia also travelled and took photos and videos, we hope also to see her works later.
Peeter stayed with us all august and september and worked very hard, sketching, drawing and painting.
Erica went inside the water, dwelled and searched.
Click on READ MORE to see photos of the works of Peeter and Erica.