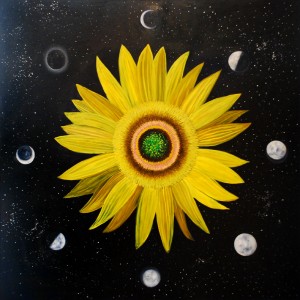 Moons and Daisy: Health Protection Spell 2011 Oil, 48″x48″
Elaine Pawlowicz – Protection Spells
December 3, 2011 – January 8, 2012
Opening Reception: Saturday December 3, 7-10pm
Elaine was at Gullkistan in june 2011.
This exhibition of paintings by Elaine Pawlowicz highlights interconnected work from her participation in recent summer artists residencies in Montana, Wyoming and Iceland.
Plein air paintings from all three locations are being shown for the first time with her paintings from imagination.
Second comes "Cosmos", an installation of paintings inspired by the open night skies. They describe miniature worlds filled with psychodramas.
Last comes a group of magical narrative paintings, "Protection Spells," formed by mystical Icelandic images intermingling with those of personal keepsakes. Icelandic folk tales are charged with invisible elves, trolls, draugurs (ghosts) and Gryla, the Christmas witch who eats bad children. These benevolent spells are used to keep the people and things most loved by us safe.
500X Gallery
500 Exposition Avenue
Dallas, TX 75226
214-828-1111
http://www.500x.org
Hours:
Saturday & Sunday, Noon to 5 p.m.