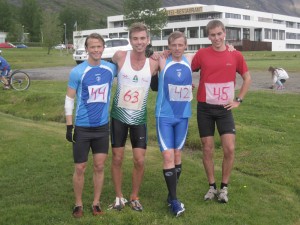 The annual GOLDSPRINT was now held for the 8th time. It started as part of the Gullkistan Art Festival in 2005 and every year the number of participants grows. Click MORE to see the photos of these amazing heroes.

Gullspretturinn var fyrst hluti dagskrárinnar á Gullkistunni Listahátíð árið 2005.
Hlaupið hefur síðan verið árlegur viðburður og þann 16. júní var hann haldinn í 8 sinn.
Á hverju ári fjölgar þátttakendum og í ár voru þeir 116.
Gríma og Siggi og allir aðrir sem stöðu að hlaupinu eiga þakkir skilið fyrir framtakið, frábæra skipulagningu og skemmtilegheit.
Smellið á MORE til að sjá myndir frá hlaupinu.
Kári Steinn var í fyrsta sæti en nánari upplýsingar um hlaupið koma við fyrsta tækifæri og einnig á hlaup.is.