Gullkistan is honored to have started to collaborate with the CAMAC International residency program for artists, writers, musicians and composers in Marney Sur Seine in France.
It was sparked by interest of our guests in 2010 Raom & Loba who later cooperated with poet Jón Özur Snorrason for their exhibitions held in Paris and Buenos Aires in spring 2012. It was therefore with pleasure we invited Jón to be the first artist to represent Gullkistan at Camac to work on his ideas and also to start a project about people who run residency program exchange as Jón is part of the Gullkistan team.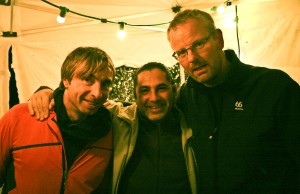 Jean-Yves Coffre director of Camac, Omar and Jón.