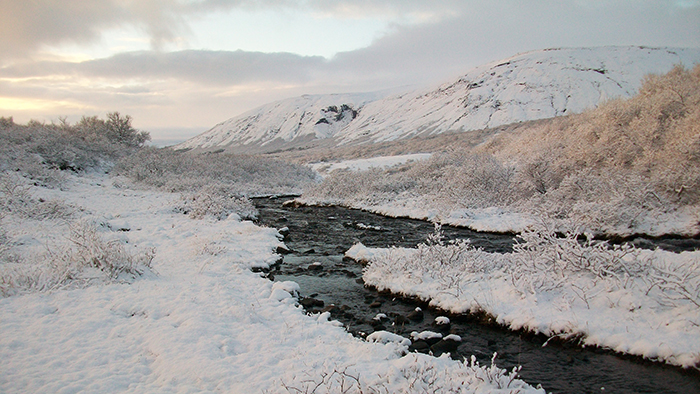 2012 was eventful with 41 guests, some with attachments, from 14 countries. Among them our 100th guest since we started in june 2009. Amazing people that have filled their hearts with new feelings for the nature, new ideas and art work. The rest of the world will see in future exhibitions, movies, poems, paintings, drawings, choreography, novels and animation.
Baniprossonno and his wife Putul came back to Gullkistan to celebrate his 80th birthday and as always he was busy working.  Again he left behind paintings and drawings for Gullkistan as he has such strong feelings about how wonderful Gullkistan is for the creativity. Many thanks Bani and Putul!
2013 is looking great for Gullkistan with artists staying every month of the year. Many seem to be interested to know how the winter is in Iceland and want to work in harmony with the wind, storm, …( we have more than 50 words for wind), northern lights and snow. January has been very mild with only one or two days of snow.
There are still some vacancies so we urge dreamers to go for it!
We welcome our guests in January and February:
Ilsu Hwang, artist, South Korea / London, UK – www.ilsuhwang.com
Jieum Kim, artist, South Korea / London, UK – www.jieunkim.net/index.php
Lissa Holloway-Attaway, artist,  Canada/ Sweden – momoby.wordpress.com
Kenn Bass, video/ installations, Brooklyn, USA – kennbass.com
Suwon Lee, photographer, South Korea / Venezuela – www.suwonlee.com
Luis Romero, Venezuela – http://www.oficina1.com/luis-romero/ , http://pulgar.multiply.com/ ; http://www.tiposmoviles.net/
Emerson Schreiner, painter, USA – www.emersonschreiner.com
Nick Pedersen, artist, Salt Lake City, USA, , www.nick-pedersen.com
For more photos click