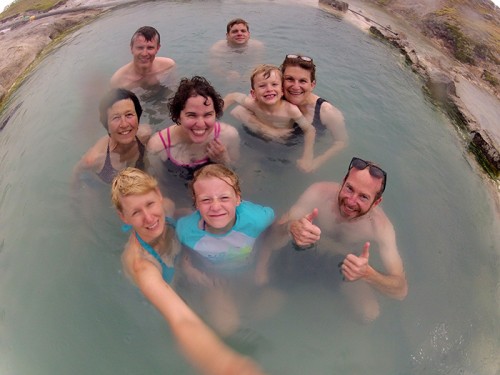 "We just had a wonderful vistitor, a friend of the farmer came and asked, if some of us wanted to go to Hveravellir on friday with a super jeep. He is just restarting a company called Iceland Safari, www.icelandsafari.com."
What an opportunity! Such are the adventures at Gullkistan!
Hveravellir is a very special place near the center of Iceland, where roads are only open in the summer.
The lucky ones who went on the trip:
Silvia Buol, artist and dancer, Switzerland – www.silvia-buol.ch
Amelia Beamer, writer, England / USA – www.ameliabeamer.com
Adrienne Callander, textileartist,  MS, USA – adriennecallander.com
Neil Callander, artist,  MS, USA
Rachel Simmons, artist,  FL, USA – www.rachelsimmons.net
Jason Christopher Boyette, filmmaker.
Parker Hannah Boyette,  and Finn Callander also took part in this adventure.
Later this month we have two more guests arriving.
Cory Linn Metcalf, Music & Innstallations, USA –  www.noisefold.com

See more photos from the trip here